Ares Landscape Architects were approached by the DfE to design a new biophilic school for St Mary's in Derby. We worked with Lyall Bills & Young on research and feasibility, and RIBA stage 3 to completion will be carried out with Tilbury Douglas and Hawkins Brown. With our knowledge and expertise in biophilic design, we envisioned a scheme that puts children's well-being first by using biophilic principles to maximise occupant connectivity with nature.
The new school is one of the first of its kind and will be used by the DfE in a research study on effects of biophilic design on the learning and development of the pupils. The project hopes to establish health and well-being as fundamental drivers for the next generation of school design.
Biophilic design is a human-centric design approach in response to the wide body of research that shows how being out in nature is significantly better for our health and well-being: it utilities specific principles to provide users an experience of nature in the built environment. Biodiversity and sustainability are also major factors in the approach.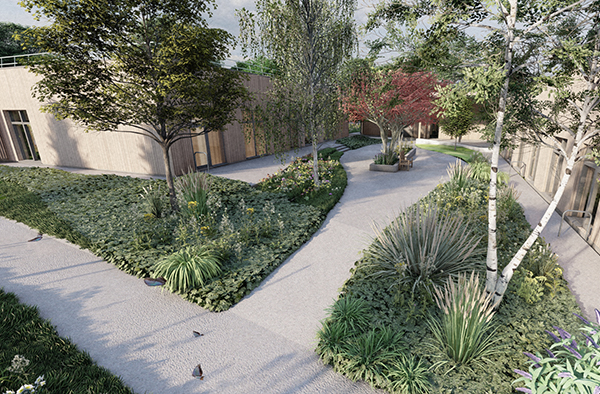 The new school plans to be net-zero carbon in operations. It will consist of 5 single-story buildings accommodating different age groups: Early years , KS1 and KS. A main covered walkway connects these, maintaining a sense of community and ease of access throughout the school. Courtyards and green spaces interlink throughout the site allowing the school users direct access and views to green and bio-diverse open spaces.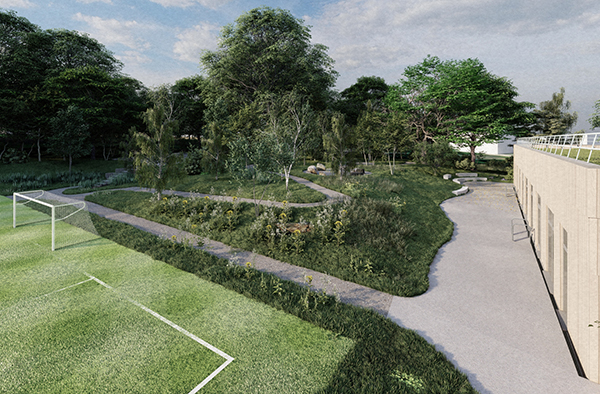 Our landscape design targets specific biophilic principles whilst also supporting the school's curriculum needs. The outdoor spaces are intended to be an extension of the classroom and are regarded in the scheme as imperative for the student's development and well-being. Areas for play, reflection, forest school and sports are all integrated into the scheme and are tailored to the specific curriculum needs. The materials palette has been carefully selected to enhance the biophilic setting and seamlessly blend the interiors and exteriors.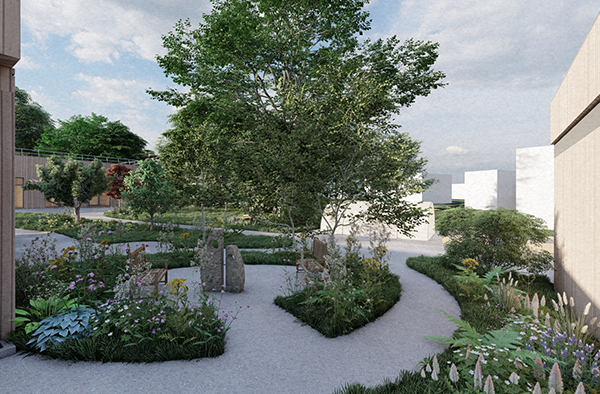 Design elements include wildflower roofs, and low-carbon timber. The planting scheme as a whole is designed to highlight seasonality throughout the year. One of the crucial actions in the scheme was to maintain the existing trees to maximise biodiversity and carbon sequestration. The result is valuable, abundant green space, which respects the character and context of the existing landscape whilst championing new ideas in learning and child development.