Kangaroo Works by Ridgeback Group is an innovative mixed-use residential development with ground floor retail premises. Located just off Division Street (a vibrant street of creative and independent businesses), the development forms part of the Heart of the City II masterplan. The project takes its name from the factory of Robert Sorby and Sons, a specialist hand tool maker that occupied the site during the early 20th century.
The development includes:
A sunny south-westerly facing 8th floor roof garden, offering residents a dynamic event space.
A split level central courtyard with varied seating and informal play opportunities, set within a densely planted environment.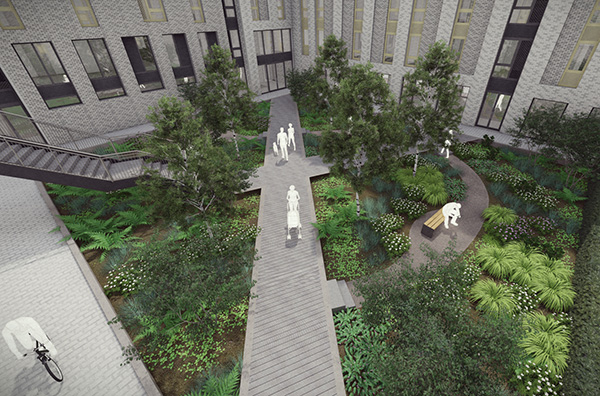 A key aspect of the design is the incorporation of sustainable urban drainage. Rain water is harvested from roofs and hard surfaces and collected centrally within the lower courtyard attenuation bed, allowing partial inundation during heavy rainfall events. Rain water is also harvested and slowed before discharge back into the sewer system through the rain gardens down Trafalgar Street. The planting design is also key to the success of the scheme, incorporating many shade tolerant trees, shrubs and perennials, providing a verdant 'woodland' setting for site users.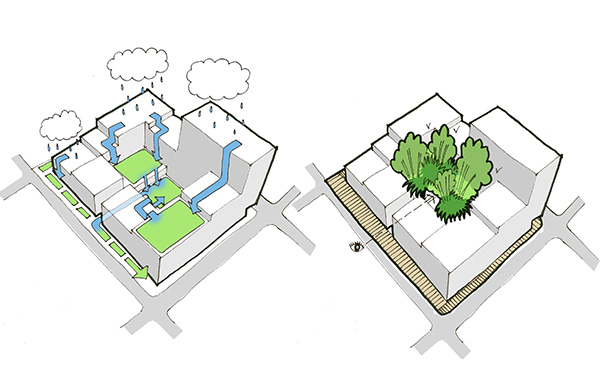 Creating a high quality public realm with bio-diverse amenity planting, Kangaroo Works will offer residents an oasis from city life and a space to relax, play, and socialise.
The development is expected to be completed in Spring/ Summer 2023.