Astrea Academy (formerly Pyebank School) is a new through-school in Sheffield for 1500 pupils aged 2-18. The academy site encompasses two buildings; renova- tion of the former Grade II listed Victorian building of Pyebank School for Primary and a new build secondary school. The two buildings celebrate the stark juxtaposi- tion of modern and old, providing an outstanding school environment that celebrates its past as well as integrat- ing the latest innovations and technology. The site is located in one of Sheffield's most deprived areas and the project has been both an educational and regener- ation development.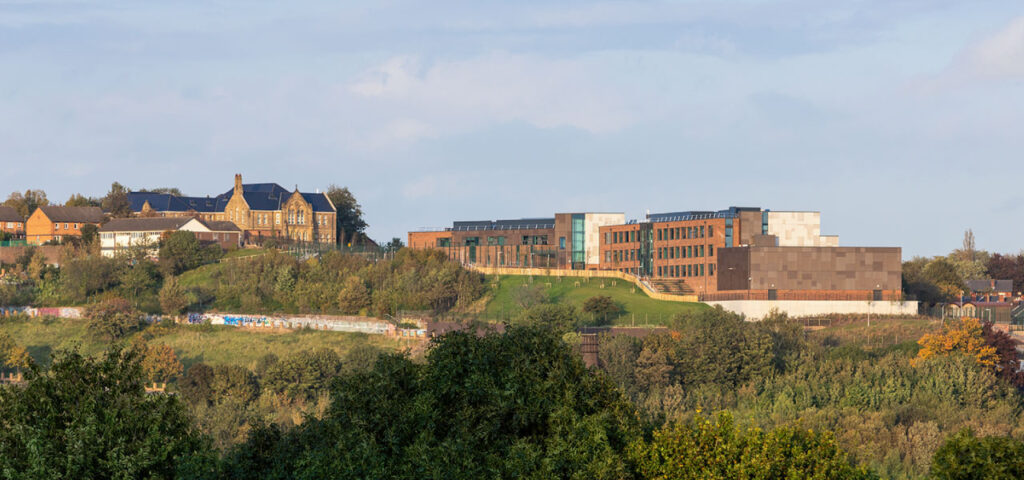 Ares Landscape Architects led the landscape design for this complex site. Situated at the top of one of Shef- field's seven hills on a site where level changes were in excess of 35m, provided a real design challenge when creating an accessible school that required level sports areas and designing out opportunities for anti-social behaviour. We achieved this through careful site analysis including survey and catalogying 52 existing retaining walls which were remenats of the sire previous development. With this understanding we were able to propose a site layout that ustilised as many of the sites existing features as possible and reduce the need for bulk earthworks to the minimum.
As part of our work we produced a virtual tour of the site for Astrea Academy.