Fairchild's Garden, previously known as Hackney Road Recreation Ground, is a small park located on the busy Hackney Road. It is the former burial ground of St Leonard's Church Shoreditch and contains the remains of Thomas Fairchild, a notable horticulturist.
Thomas Fairchild was an influential nurseryman and horticulturalist who lived in London in the 17th and 18th century. His early research was focused on plant and tree species that thrived in the polluted air of London at the time and resulted in him being the celebrated author of The City Gardener.
Hackney Council wants to transform Fairchild's Garden into a safe, welcoming, flexible space which meets the needs of the local community. Ares Landscape Architects have been appointed as Landscape Consultants and design lead to provide design services on behalf of Hackney Council for Fairchild's Garden.
We developed a design that is not only sympathetic to the historic significance of the site but also portrayed the present character of Shoreditch as a vibrant, creative and social area. The proposals take inspiration from the work of Thomas Fairchild and link to the nearby Columbia Road Flower Market.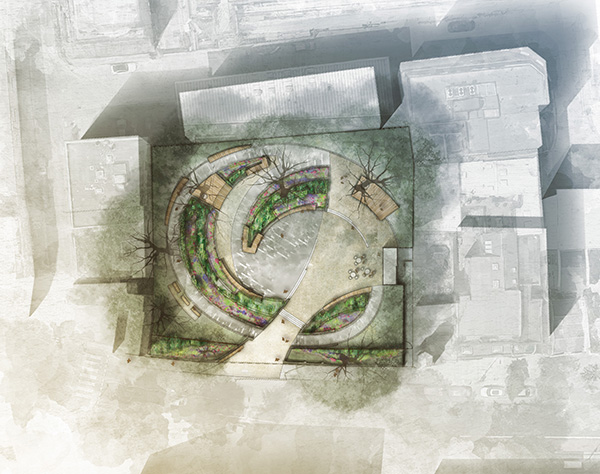 The proposals include the installation of a kiosk and the widening of the main entrance, both helping to attract users to populate the space.
An open area is positioned centrally which allows flexibility for additional seating or art installations. Secondary footpaths provide multiple routes through the space with occasional seating opportunities providing a range of intimate and public spaces.
The overall outcome is a distinctive, high quality public space that subtly incorporates the heritage into the fabric of the design.